From the blog of Nancy Hudgins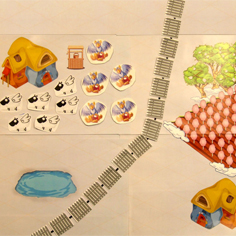 O.K. This will date me. I grew up playing board games.
Three games involving strategy I played were Stratego, a board game equivalent of "Capture the Flag;" Gettysburg (Avalon Hill), a more complicated game involving strategy that I played with my older brother; and, of course, Monopoly. I have to admit, though, that Monopoly was not one of my favorites. Either it took too long to play, or my brother always beat me, I can't remember which.
Thanks to the worldwide web, I found a list of negotiation board games in an article in the Straits Times (Malaysia). You can find reviews of each, by a self-described board game geek, here. The two which sounded most interesting were Santiago and Diplomacy. Santiago is set on an island off the coast of Africa. Players bid for water to grow crops. If you can't negotiate with the canal overseer, you lose. Diplomacy is a circa World War I game about countries in Europe. Negotiation is necessary for your country's survival.
Here's the 21st Century update. Linda Babcock, a Carnegie-Mellon professor whose research interest is girls and negotiation, has created an on-line negotiation game for 7 to 12 year-olds called Reign of Aquaria. Click on the game and it will begin. The picture above is from the game.
Bonus (non-strategic) game suggestion: Sorry, the best game ever for families to play together because it's essentially a game of chance, and even the youngest member of your family can (and will) win. As the youngest member of my family, I remember it fondly from "family game" nights.
What games involving strategy or negotiation would you recommend?