While mediators often assist in the creation of near miracles behind closed doors, our miraculous work and effective approaches are still not well-understood by general society. Essentially, mediation represents respectful discussion and a search for optimized solutions, just what our national and global society needs! Might a more effective way of "reaching the masses" be to take advantage of "MEDIATION ART," be that in our physical and virtual offices, on our websites, and, perhaps in time, at bus stops and on highway billboards?
I recently introduced one facet of this concept of our reflecting outward to society the work that we do with my article "Mediation Mugs Breaking Out." While lots of fun and often funny, creative drinking mugs only spread "the good word" to one, two or at most a few people at a time. How can we make our valuable mediation messages more scalable?
As I see it, our background challenge remains that the selection of a mediator is a remarkably conservative decision. People only want to mediate once and they do not want Bozo the clown as their mediator. They want a proven, effective mediator. They are not looking for the flashiest new brand on the block, but, rather, clear credibility, experience and trustworthiness.
Against this background, I suggest that it is hard for individual mediators and small mediation firms to be risky or even creative in our marketing. We as mediators want to be seen as that proven, effective mediator the parties want. The challenge is that, to get the pubic's attention in the first place, especially in our ever more saturated digital world, growing enterprises, no matter their nature, do commonly need to do things that are creative and sometimes risky to get fully noticed.
Now, while it is understandable that individual mediators and mediation firms will continue to choose to be conservative in their mediation practice promotion, it is, perhaps, a different question as to whether this conservative approach is also a seeming requirement for the many mediation membership. Might state, national and international mediation organizations have "a bit more leash" in terms of effective mediation promotion, perhaps even considering bold imagery, effective catch phrases, and even humor to better "sell our wares?"
My Trump Story – Digital to Physical Possibilities
In seeking to support the global growth of mediation, and being launched on the first day of the commercial internet now over 26 years ago, Mediate.com has since our earliest days engaged in some rather creative promotional schemes. Notably, in the year 2000, I remember being in New York for an ABA Conference and, as I walked down 5th Avenue, being struck by, of all people, Donald Trump's promotion of his Apprentice TV show with a "huge" semi-transparent banner approximately 100 feet by 30 feet draping Trump Tower. In addition to the vanity, what struck me was that Donald did not himself create that huge banner. He almost surely had some 18-year old intern or the like who knew Adobe Illustrator and Photoshop and how to create a PDF to be printed on a new super-sized digital printer. Hmmm? I thought. We also have interns!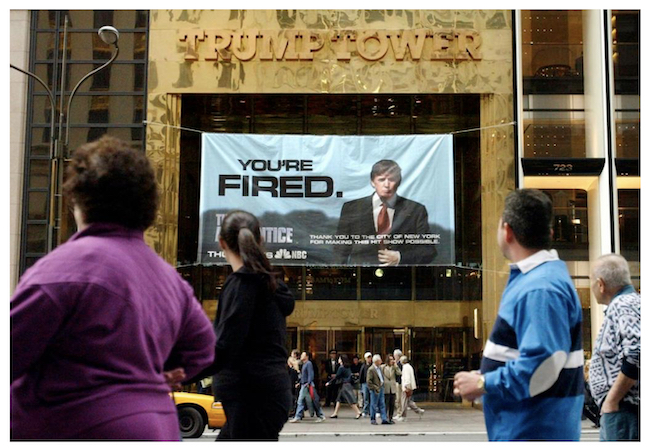 Bumper Stickers and Post Cards
Flying back to Eugene from New York, I realized that Mediate simply did not have a Trump Tower to hang a banner on nor a deep treasury. What we did have, however, was a new digital camera (cameras were not on phones yet) and, if not Trump Tower, we did at least have a handy and good looking brick wall. Literally. The result shown below was Mediate.com's first Bumper Sticker integrating both the then current "got milk?" campaign and the proverbial metaphor of conflict being like repeatedly knocking your head against a brick wall.

In similar fashion, Mediate developed two additional bumper stickers and matching boxes of note cards. Our recommended location for bumper stickers, beyond mediator bumpers, was for Mediate members to place their bumper sticker on their curbside trash receptacles that are wheeled to the street once we a week. We thought this rather creative and affordable "guerrilla marketing." To this day, I still occasionally see Mediate bumper stickers on curbside trash receptacles.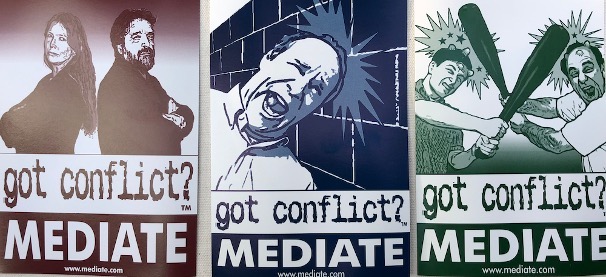 Mediation Clothing
Another way of reaching the masses is to appreciate that each of us physically (and our websites virtually) are also personal billboards for carrying the valuable mediation messages that we want to convey. For example, Mediate has enjoyed distributing Mediate.com hats over the years. In addition to conveying the good word about Mediate.com and mediation, wearable apparel also powerfully conveys a personal endorsement of the message being conveyed. Here are a few Mediate examples: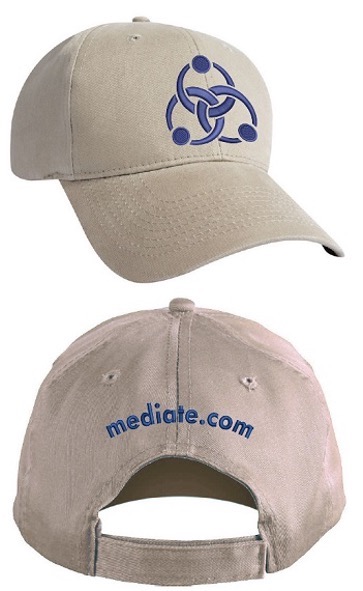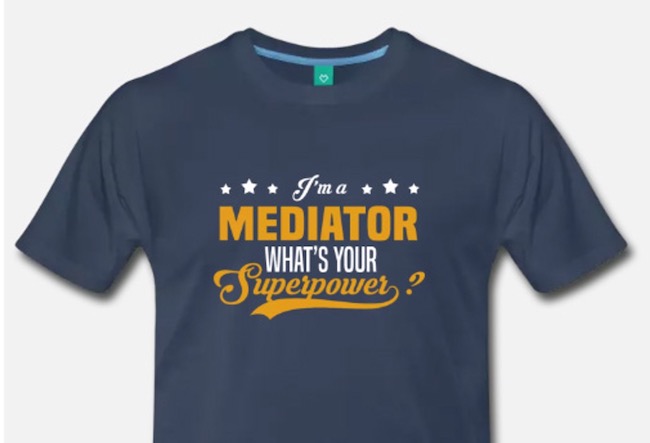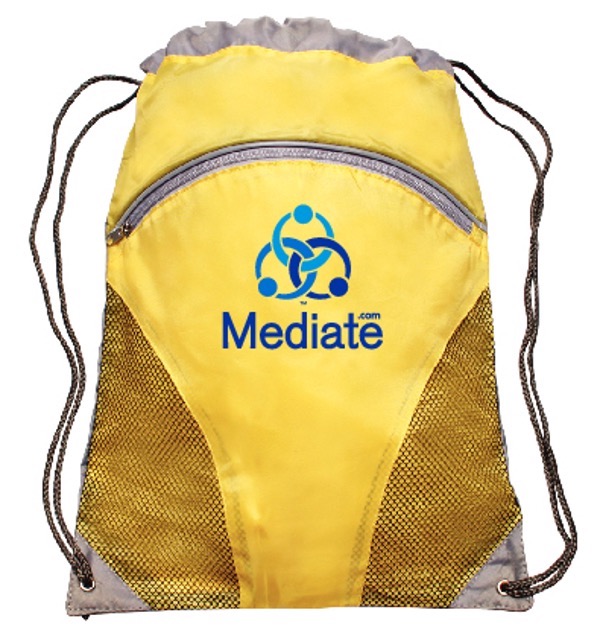 Mediate.com Website Banners
With each of our websites and social media sites, we mediators have a broader and more scalable means of reaching visitors with motivating messages. Again, it is likely that mediation membership organizations like Mediate.com have greater latitude than individual practitioners in terms of such creative and humorous messages. Our main goal here is to get people's attention and to motivate them to take next steps of contacting one or more mediators. Here are some samples of what we have come up with. Note that we suggest that many people are motivated to mediate to avoid even worse things happening than for purely positive "win-win" reasons.
Get Rid of that Headache!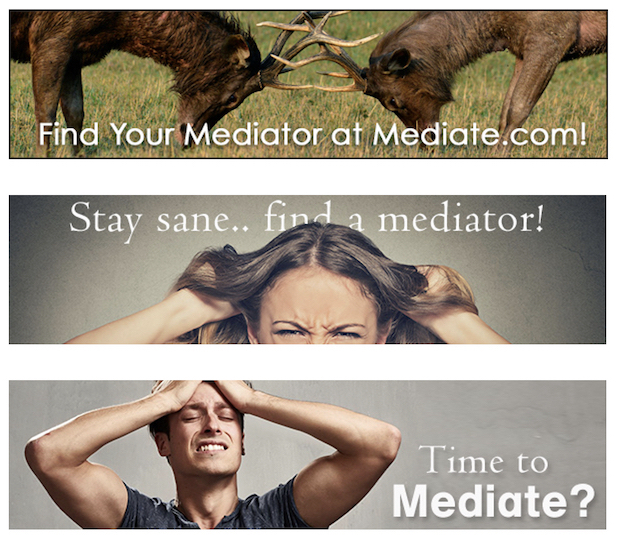 Regain Control Over Your Life!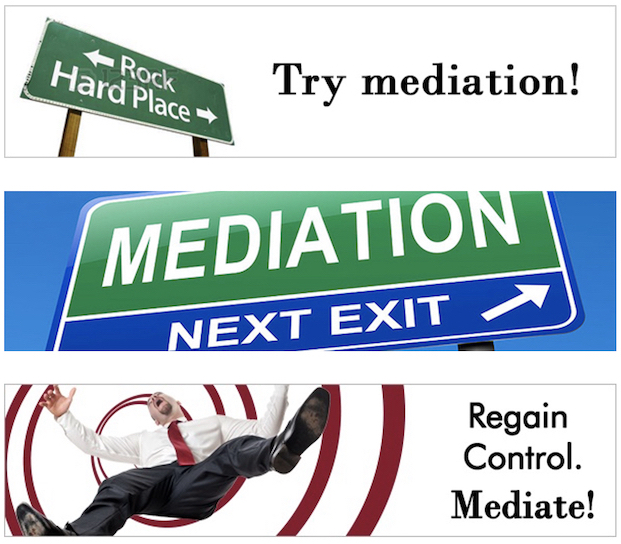 Time To Move On!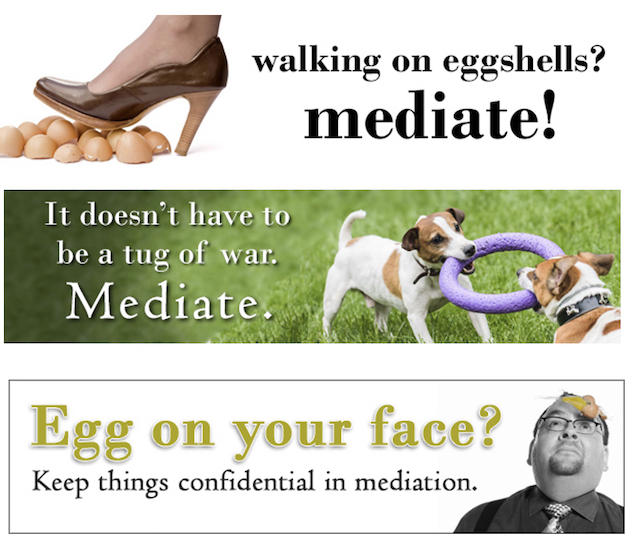 Trusted Animals Are A Great Way of Attracting Attention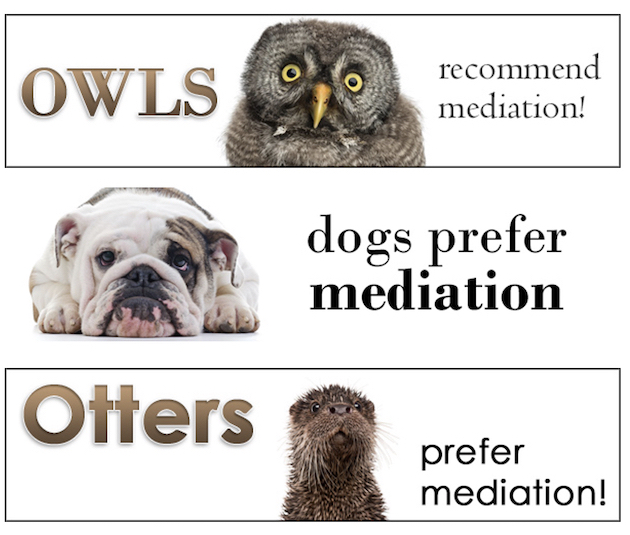 Time For Mediation Public Art – Walls, Benches and Billboards
Building on a couple of decades of guerilla marketing experience, it now seems that we need to "up our game" in terms of creating and distributing "Mediation Art." My goal here is that it will someday soon become commonplace for not only mediators, but also families, schools, governmental entities, workplaces and businesses to actively display powerful imagery and slogans motivating people to "do the smart thing" and mediate. I am a bit embarrassed to confess that this thinking came together for me while exploring Wayfair.com "wall art."
For me again, the essence of mediation is "respectful discussion and a search for optimized solutions." In my mind, a joint search for optimized solutions is often just as important as the actual finding of those solutions. Huge gains, often not expected, result from respectful dialogue and the search for optimizing solutions, whether those solutions are actually found in the moment or not.
There is quite simply something about art, particularly powerful imagery that a viewer can identify with, presented along with a catchy and memorable slogan that can, I believe, work wonders for the world of mediation.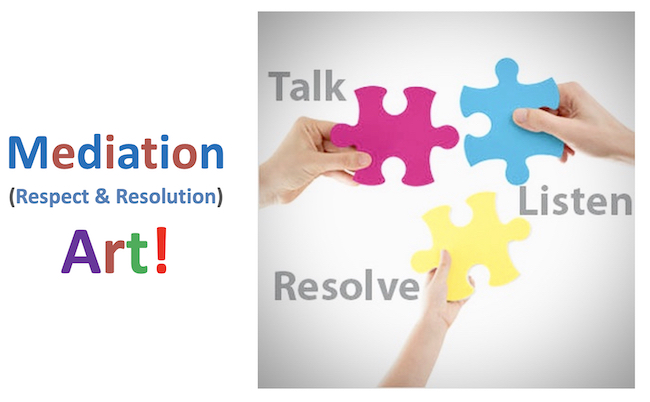 Let's think a bit about public "wall art" generally. "Imagine," (my favorite word in mediation) if we did have creative art and slogans posted on bus stops and billboards, in family homes and on workplace walls, what would we say? What would our messages be? What would get noticed? What would make a difference?
As an exercise and to get this discussion going, I took a bit of time to review readily available imagery online (think Google images) and I added a few possible sayings to go along with those images. Here is my first crack at what I believe would serve as effective public art and messaging to promote mediation. I hope that you enjoy and are moved to join this new campaign.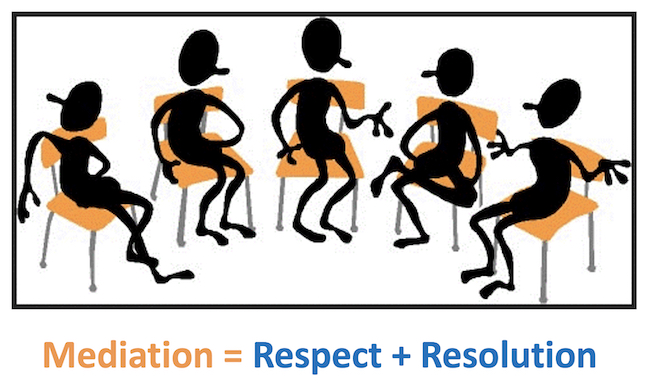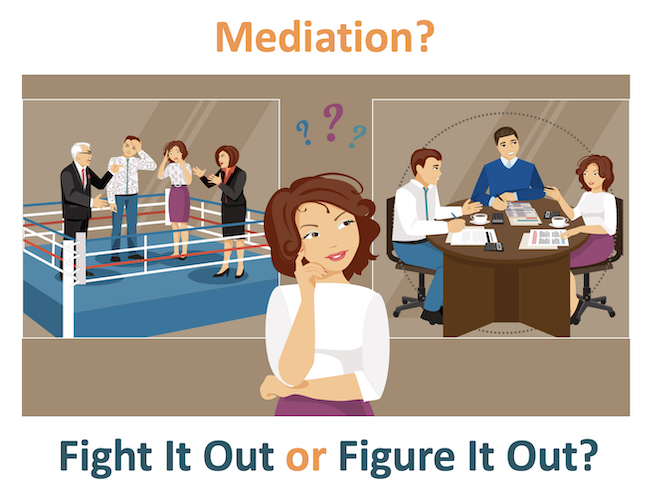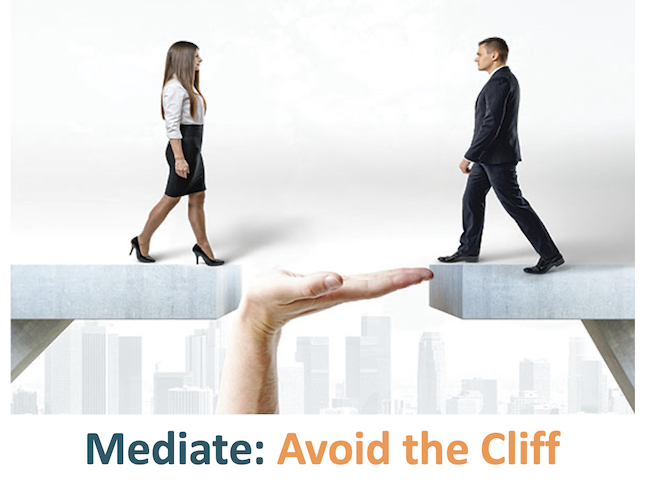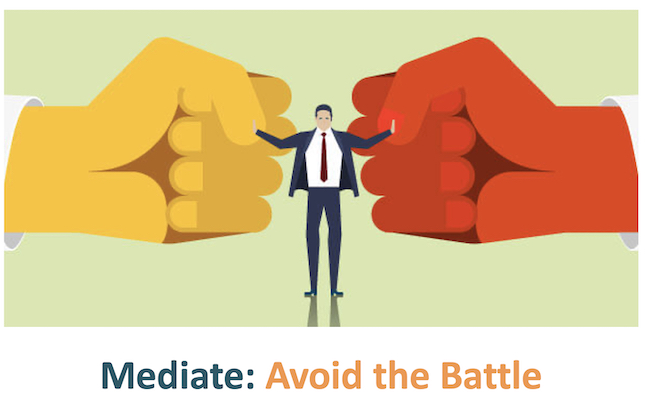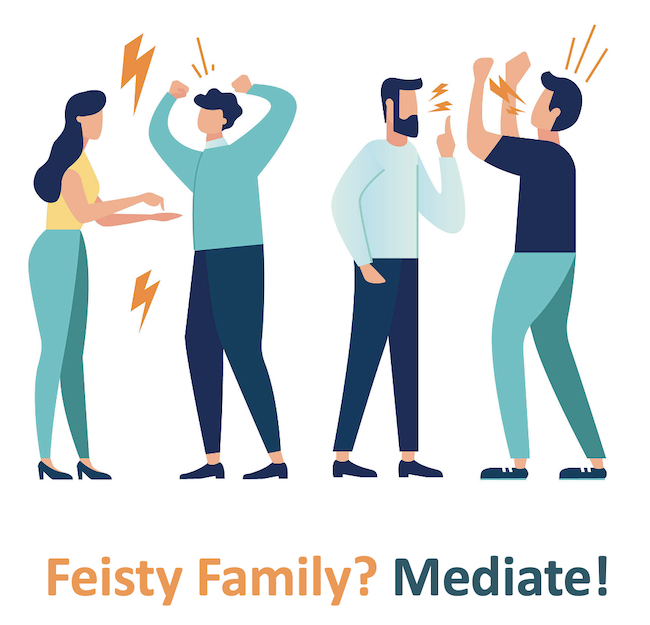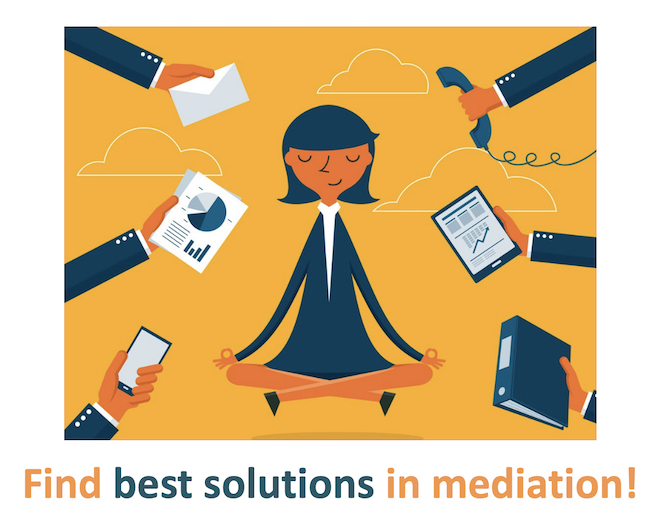 The Future of Mediation Art
While I don't suggest that creative and humorous mediation bumper-stickers, greeting cards, hats, t-shirts, backpacks, banners, bus stops and billboards will change our society or world over night, I do believe that these and other creative public representations of what mediation offers, both the positives of respectful discussion and a search for optimized solutions, and also headaches and loss of control to be avoided, can make a big difference. Folks, we need to get mediation noticed and to use every creative device we can imagine to get that job done.
One device that surely works to motivate new behavior are contests and competitions, and so it will be my suggestion to the Mediate.com Board of Directors in the new year that we put together an annual competition and set of awards for the most creative and effective development of new images, slogans, audios and videos to get our incredibly valuable messages across. Let's remember, our leading competitors in the world of conflict resolution are either continued lack of resolution or litigation. Against this backdrop, and with these options, my read is that we can do so very much better!
The mediation train is leaving the station. Time for us to get fully on board to more effectively share what we do with the world! Respectful discussion and a search for optimizing solutions is now not only what mediation is about, it is seemingly what is needed if life on earth itself is to long continue.